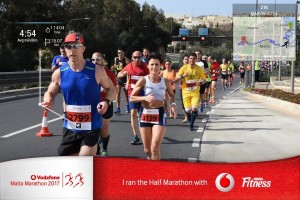 Another trip to Malta for the Vodafone Half Marathon, with a holiday thrown in for good measure…..shame not to! After missing out last year on my sub 1.30 goal by a minute, my plan was to aim for this again when originally entering.
Heel pain which started in September 2016 had progressed to me having to stop running completely for the remainder of the year and into 2017, due to the unwelcome guest of Plantar Fasciitis deciding to visit my right foot, with no intention of leaving. Podiatrist appointments, stretching, rolling, massaging and taping had left me with a brief glimmer of hope at the beginning of February that I may just get enough runs in to complete the half safely; sub 1.30 was definitely out of the question. I managed a few mid-week 3-4 milers, and built up to 7 miles a week before the run, but felt confident some winter bike and swim training would give me enough cardio fitness to get round, the unknown being whether the foot would hold out.
Karen and i arrive on the Friday evening, unfortunately without our companions Pat and Sandra. We decide to register for the half that evening, and arrive at the Meridian Hotel in St.Julians Bay to find a que about a mile long, even though it was 8.00pm! The Malta Marathon, Half Marathon and Walkathon combined have over 4000 entrants, with the UK making up the largest foreign entry of 700.
Saturday is spent chilling out around St.Julians, and the evening involving the normal race and kit prep, massaging my foot and K-Taping it.
After a good breakfast Sunday morning, Karen and i leave to catch the bus up to Medina for the start. There are runners from all nationalities which is amazing to be around. After numerous pee breaks, we are called over for the start. A quick goodbye to Karen who is doing the walkathon, and I try to get into the mass of runners. I feel nervous regarding my foot, but have little time to dwell as the race starts 5 minutes early! I have a loose plan to stick to 8 minute miles as I head out over the start line.
It's difficult to get going at first due to the volume of runners, but I manage to settle in after a few minutes, and a nice downhill gets me to 7.55, I feel comfortable here, so decide to try and hold this pace and see what happens. It's warm in the clear sunshine and light wind, there are 32 bands playing for 32 years of the event on the route, a right variety of music, but makes for a great atmosphere with the spectators.
5 miles in and things are going okay, I can feel the heel but nothing out of the ordinary, and I'm picking my way through the runners nicely. 9 miles in and my left Achilles has become really tight, the opposite foot has now decided to join in which may be compensating in some way, I try to put it out of my head and plough on.
Finally down to Silema seafront at 11 miles, everything is aching now due to the lack of running conditioning, it's a flat run in to the finish, but those 2 miles seem like 5! I'm still at 7.55's and I put my head down to try and pick up pace in the last mile but there's no acceleration. The finish line is in sight and I push to get over in 1.43.55. Massively happy with the time, with a big slice of relief to finish as I collect a beauty of a medal.
I sit with my banana and drink and wait for Karen to finish the walkathon. I seriously have complete respect for anyone who does walking events; walking wrecks me way more than running!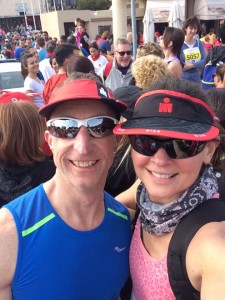 Straight to the bar after for some celebratory drinks where we share our race stories, the place is awash with post-race runners on the beer.
Malta Half is a brilliant well organised event, coupled with a stunning island to visit. It was nice to be back running after such a long layoff, the Plantar Fasciitis is still an ongoing problem, hopefully further treatment and investigations will see the back of it in the next couple of months.
GB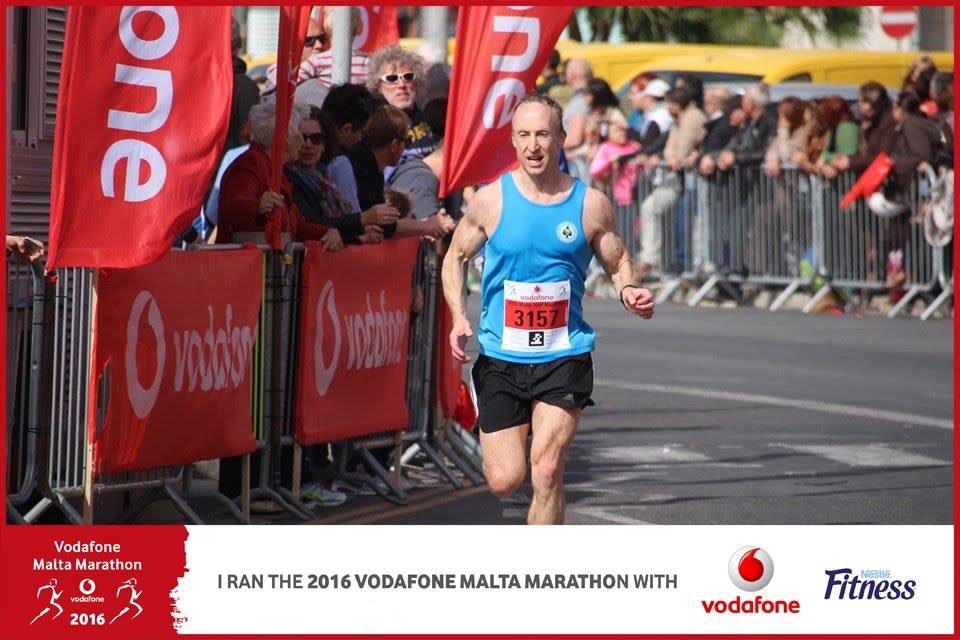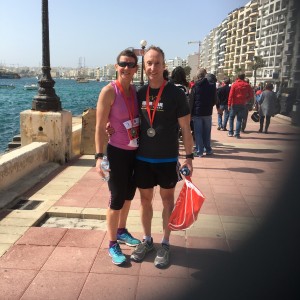 I Arrived in Malta on Thursday afternoon with Karen plus Mr. Malta himself Pat Currie and Sandra Williams, lovely friends, company and tour guides!
After 2 days of visiting various locations around this beautiful island, and surviving slipping on sea weed and smacking my head, it was soon Sunday and race day. After a good breakfast Karen and I went over to catch the athlete's bus at 7.45am which would take us to the race start at Midena.
Pat also came over to the bus with us as he insisted on seeing his athletes safely off!  After a 15 minute journey sat in front of some lively Italian runners, we arrive at Mdina.
It's already swarming with runners of various nationalities, and Karen and I begin the first of several toilet queues. The guy on the loud speaker is soon asking for everyone to make their way towards the start line for a prompt 9.15am start. There are no timed pens here; I see 2 pacers holding small balloons with 1.35 and 2.00 hour times written on them in black marker pen! I wish Karen good luck and try to make my way towards the front, but it's already a solid block of bodies. I remind myself of my master plan for my goal of a sub 1.30 time, a 50/50 negative split of 6.55's and 6.45's, but i am also aware that it's very windy and warm.
The starting hooter goes, and it's a struggle to get going through the mass of people for at least half a mile, I'm nowhere near the pace I need to be and struggle to pick my way through the hundreds of runners. We come to the first downhill; the course map has given a lot of descent so I'm hopeful it stays like this. I'm soon at 6.35's and my mind is a mix of feeling okay, knowing I'm going too fast, and thinking this pace will make up for the lost time in the crowd. I rein my self back to 6.50's convincing myself this is a happy medium. I come to the first of the water stops at around 3 miles, i'm feeling the heat and the strong wind is in no way cooling, so have a good slurp and tip the rest over me. The course is now a mix of back streets and dual carriageways, and the first small ascent arrives where the wind really picked up. I'm around target pace at 10k, and the sponge stations were amazing to squeeze water over myself to cool down, a nice idea for a race. At 8.5 miles im really feeling the heat, and there is another slight ascent in a long straight of road, that along with the strong wind sees my pace dropping into the 7's. I'm praying for the downhill to Selina sea front to come, and my pace goes up slightly when it does, leading down to around a mile and a half of straight run in to the finish. The wind gives a brief respite and comes from behind, and I'm reciting every motivational quote I've ever dished out in my head to pick my pace up. The wind comes back round into a headwind and I'm going with everything I've got left, and trying to ignore how hot I feel. I can hear the commentator on the loud speaker and am desperately looking for the finish line inflatable but all I can see are restaurant and cafe canopys and banners. I take a last peep at my watch, I can see I'm into 1.30 when i finally spot the finish line and push on with the last bit of energy to cross the line.
I collect my medal and grab the usual banana and energy bars and drink, then walk round and see Pat and Sandra who congratulate me, and I blurt out my race story to them! I go to collect my bag with my pre race clothes in and miss Karen coming over the line, she loved the wind as much as I  did! We stay and watch for a while, before going back to the apartment to chill, then head back to Mdina but this time for some lunch and a beverage seeing as it was my birthday!
Some shopping Monday morning prior to coming home and lunch at Marsaxlokk, a gorgeous traditional fishing village, so Sea Bass and Bream were definitely on the menu for all of us!
Malta Half Marathon is a brilliant Half to run in, reasonably priced, and a very well organised event, plenty of water and sponge stops with a beauty of a medal at the end. A good course for a PB, just hope the wind is kind to you, and if you can manage a few days to look around this stunning island, all the better. I managed a half marathon PB of 1.30.59, but no sub 1.30 goal cigar……maybe Cardiff Half at the end of March!
Nez