The Damned Dam Runs!
I arrived in Amsterdam on the 21st of September to grey/dark skies, but also with my usual optimism that the weather wouldn't turn out to be as shite as forecast for my final 2 runs to raise money for Huntington's Disease Association……how wrong I was! Our 10-minute walk to the house boat was going well until a freak storm with thunder/lightening and monsoon rain like I've never seen or heard before interrupted it. Even sheltering in a shop alcove didn't prevent an initial soaking and water in the suitcase, this set the trend for a wet weekend. 
Saturday brought a slightly brighter day, and over to Zaandam, a pretty city about 20 minutes train journey from Amsterdam, where Karen and I would run the 5-mile night loop. A good look around, food and then over to register early doors. Not due to run until 8.15pm, but I envisaged 1000's of runners queuing to get their numbers……nope hardly anyone there, my running anxiety had got the better of me again! Registration had to be a good mile and a half away from the city, at the end of some back-street estate so the nearest pub it was. A beer in Zaandam's equivalent of the Evergreen, another wander to kill some time and made our way to the start. The light rain had now got heavier while we waited to get in the start pen, but the Dutch know how to get a run started which took the mind off the soggy trainers. A show of booming dance music, lights, lasers, theatrical smoke and we were off. Zaandam locals had come out to support in the same way Tenby locals do for Ironman and with the city lit up, it made for a great atmosphere. 5 miles later, soaked but in good spirits we picked up our medals and made our way back to Amsterdam. Thank god the houseboat had underfloor heating in the bath room to dry my trainers out.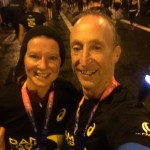 Up early the next morning for brekkie to get into Amsterdam to register at 9.30am, as I was due to start the 10-mile Dam to Dam loop run from Amsterdam to Zaandam at 11.15am. Running solo today and going for a sub 1.10 time on a relatively flat course. Registered easily and went to have a peek at the start pens, but not for long as it's fair to say it was pissing down, and cold with it! We took shelter in a conveniently situated Hilton, something about the start pen numberings wasn't sitting right with me, so I asked Karen to check the details. My number corresponded with a colour that I wasn't aware of, which also corresponded with a different start time pen….2,15pm! It was now 10.45am! This can't be right?! Then the look on Karen's face made me realize it was. I had 3 and a half hours to kill, but raining so hard you couldn't go anywhere without getting soaked. What a knob!  I've never shirked a race, but if this one hadn't been for charity, I think the bar would have been favorite. Just had to blank it out and wait, while looking at the rain and praying for it to ease off at least. It didn't! After what seemed like an eternity it was time for me to get to the pen for 2.00pm. The rain was still belting down, and it wasn't the most enthusiastic walk to a start line I've ever had. Lush wet warm up, and 15 minutes later with squelching trainers we were off, just had to get the head down and drive on! Pace seemed pretty quick so checked the Garmin…. timer working but no average pace…F__ck!! Get over it and draw on experience. Run was a mixture of dual carriageways, roads and back streets which had lots of support/music considering the weather, but in all honesty it's a bit of a blur! I knew my pace was slightly down at halfway for goal time so had to pick it up in the last half. Into Zaandam for the long run in to the finish, 1.08 turned into 1.09 and those seconds were going what seemed like double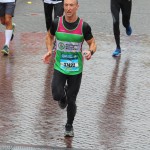 time now. Last burst and managed to get over the line in 1.09.47. I had to get a shuttle bus back to Amsterdam and then a short ferry ride back over to our house boat. Messaged Karen to meet up with my coat as I was shivering cold and had started to become dizzy, super glad to get home and in the power shower. A nice meal out that night with a few beers involved. Monday and time to leave, a quick wander around the Dam, typically it was sunny! 2 great runs and plenty of school boy errors, I would definitely do them again armed with a lot more local knowledge and hopefully better weather! All worth it though, as along with Tenby 10k/Long Course Half and a load of generous donations, Huntington's Disease Association had a tidy £700 towards the great work they do.